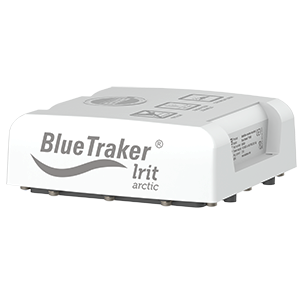 BlueTraker® LRIT Arctic
The world's only LRIT terminal engineered for Arctic voyage!
BlueTraker® LRIT Arctic is the world's only LRIT terminal which enables operation in the extreme and cold environments of Arctic and Antartic seas, so called Sea area A4. Terminal resists accelerated cooling in extreme environments, successfully battling the Arctic chill factor and the effect of arctic winds on exposed electronic equipment.
The BlueTraker® LRIT Arctic terminal can operate in extremely cold environments with temperatures down to -55° C. It is the benchmark for LRIT operation in extreme conditions, and tested by Intertek of Finland for perfect Arctic operation.
Overview
BlueTraker® LRIT transmits and receives these data:

Automatic Position Report (APR);

Identity of the ship;

Position of the ship;

Date and time of the position;

On-demand position report polling;

Pre-scheduled position reports.

The kit includes all needed accessories and a free pre-conformance test, to test the installation before the final conformance test is to be paid.