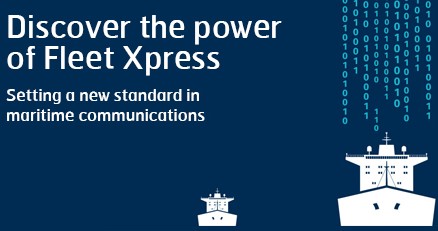 Inmarsat Global Xpress Ka-band technology combined with FleetBroadband back-up.
Fleet Xpress opens up new levels of connectivity and exceptional performance across the world's oceans.
Bringing together the power of Global Xpress for greater bandwidth with the global mobility and reliability of FleetBroadband, Fleet Xpress is setting the new standard in maritime communications.
Fleet Xpress takes maritime communications to the next level, delivering the high data speeds enabled by Inmarsat's Global Xpress Ka-band technology combined with the proven reliability of Inmarsat's flagship FleetBroadband L-band service.
Fleet Xpress is powering the maritime data revolution. Guaranteed global bandwidth ensures that ship owners and operators can improve business intelligence, enhance efficiency, performance and crew welfare, and in turn run their businesses more effectively.
Fleet Xpress offers a powerful combination of unique benefits to set a new standard in maritime communications.
Continuous Connectivity
Ultimate reliability through a dual satellite constellation using Ka-band with unlimited L-band back-up, ensuring seamless global mobility.
Guaranteed Performance
Committed data rates backed-up by service level agreements guarantee that the customer always gets what they pay for.
Controlled Costs
More accurate cost management with a wide selection of flexible subscription packages and one invoice.
Fully Managed Support
Standardised plug-and-play service with 24/7/365 management, monitoring and support globally, for simplicity and complete peace of mind.
Business Applications
A unique opportunity for enhanced operations by deploying value added services developed by third party application providers.
The evolution of Fleet Xpress
The Inmarsat Service Enablement Platform will power a revolutionary new maritime applications ecosystem, taking Fleet Xpress beyond ordinary broadband communications.
It allows Inmarsat's Certified Application Partners (CAPs) to develop and publish innovative, content-rich applications over the Fleet Xpress service, such as the real-time analysis of data, including engine monitoring, weather information and fuel consumption rates.
This new maritime ecosystem allows ship owners and managers to unlock the potential of the data revolution at sea and transform the way shipping operates. Applications can deliver real benefits in operational efficiency, safety and compliance, IT security and crew welfare.