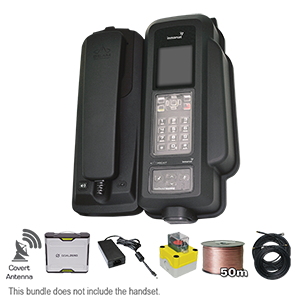 The Beam IsatDock2 MARINE Anti-Piracy Solution, uses a Beam IsatDock2 dock and an Inmarsat IsatPhone 2 satellite telephone handset to provide a complete bundled installation for an anti-piracy installation allowing emergency communications and SOS message to be sent if under threat.
IsatDock2 MARINE Anti-Piracy Solution Features
Safety First
The Anti-Piracy solution ensures that communication can continue if all power or communication equipment on board a vessel has been cut off or destroyed by pirates.
Using the ISatPhone 2's GPS system this ensures that the dock can receive pinpoint accuracy using an external GPS antenna and enables tracking and ALERT worldwide. Tracking and Instant ALERT messages can be sent via SMS or email address as required and is all configured through the handset.
Alert messages can be easily activated on the unit or alternatively an additional alert button can be installed throughout the vessel to trigger and alert. Once configured the alert system is and will generate an alert message to the pre-set destination once triggered.
The back-up battery that comes with the package can last up to 20 hours on standby and/or 10 hours of talk time.
Key Features & Benefits
• High quality marine grade design, IP65 rated
• Dedicated Privacy Handset
• Anti-Piracy Covert Antenna
• Bluetooth connectivity, via IsatPhone 2
• RJ11/POTS interface, cable runs up to 600m/2000ft
• Voice, SMS, SBD and Circuit Switched Data capable
• Tracking and SOS (Via the ISatPhone 2 handset)
• USB data interface
• Accessory / Ignition sense
• 10-32V DC power input
• AC Plug pack included 110/240 input
• Supports Active and Passive Inmarsat antennas
• Full certified, Inmarsat, RoHS, CE, IEC60945, AS/EN60950
• 2-year repair or replacement warranty
Instant Message & Tracking Features
• Dedicated internal GPS receiver
• Periodic location messages
• SMS, SMS to email
• Location message sent upon button press
• Ignition ON/OFF reporting
• Remote location polling via SMS Instant Message Mode
• Single button press on terminal
• Instant GPS location messages
• Supports external "man down" pendant or button
• Remote clearing of alert via SMS
• Tracking/Instant Message
Watch Beam's Anti-Piracy Solution Video
The Beam Piracy Solution is a complete bundled installation that provides an immediate contact/message under threat with the added ability to be able to make or receive a telephone call from the "safe room" at any time.