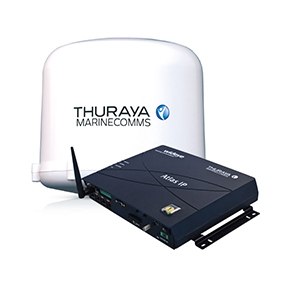 Thuraya Atlas IP is specifically designed to deliver added value to end-users seeking enhanced connectivity and greater operational efficiency on board ships. It provides merchant maritime, fishing, government and leisure users with a purpose-designed, fully-featured maritime satellite terminal that supports voice and broadband IP data connectivity at speeds of up to 444kbps.
Thuraya Atlas IP features improved power efficiency, a smaller form factor and greater versatility than rival maritime broadband products. The terminal features a single cable connection to the stabilized antenna, direct bulkhead mounting and built-in Wi-Fi.
It also includes a range of features designed to support improved communications functionality and enhance shipboard operations. These include port forwarding, which can automatically transfer data from shipboard equipment and devices in support of M2M reporting routines, an English/Chinese web interface, a built-in firewall, continuous GPS output and the ability to limit data sessions by time or volume.
FEATURES
Corporate Internet Access
Email and internet brofwsing applications optimized for satellite connections with full control and visibility for the ship owner or manager.
Crew Welfare
Demand for crew calling is dramatically increasing the use of social media, instant chat and video services onboard ships – owners can now keep their crew connected to their friends and family.
Remote IT Support/Video Conferencing/VoIP
Use video conferencing for remote IT, equipment maintenance and diagnostics as well as day to day meetings and even services like telemedicine.
Vessel Tracking/Regulatory Compliance
Owners and managers can get instant information on the location of their assets via online portals, regardless of their location. Satisfy the need to report on fuel quality, ballast water procedures, give notice of arrival, as well as ensuring that navigation charts are up-to-date.