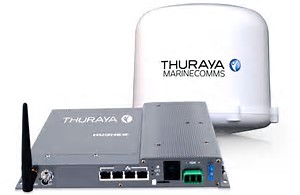 Thuraya offers a range of reliable and cost-effective maritime voice and data products which can keep you connected at sea, no matter the type of vessel you are crewing. Two hardware options are available:
Thuraya Atlas IP delivers added value to end-users seeking advanced connectivity and greater operational efficiency on board ships. It provides merchant maritime, fishing, government and leisure users with a purpose-designed, fully-featured maritime satellite terminal that supports voice and broadband IP data connectivity at speeds of up to 444 kbps.
For ship owners or managers who need a robust and highly reliable maritime-specific terminal for basic data and VoIP capabilities, look no further than the Thuraya Orion IP.
Features
Background IP at speeds up to 444 Kbps
Streaming services up to 384 Kbps
Gives maritime users fast connectivity for business-critical and crew welfare applications
Available through 2 terminals:
Thuraya Orion IP: low-cost terminal with basic functionalities
Thuraya Atlas IP: offering the same broadband data capabilities, combined with voice
Benefits
A robust and reliable network providing voice and data services that improves visibility, drives efficiency and improves crew welfare
Small, lightweight terminal:
Easy to install & to operate
Cost-effective
Truly plug & play
Optional voice service
Built-in WiFi
Flexible airtime service plans meeting all different requirements