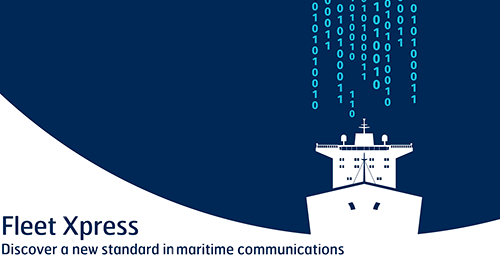 Fleet Xpress delivers the high data speeds enabled by Inmarsat's Global Xpress Ka-band technology combined with the proven reliability of Inmarsat's FleetBroadband L-band service. Fleet Broadband being the backup service of the main Global Xpress service, the switch between both services is fully managed by Inmarsat via the Network Service Device (NSD). The NSD is a box built on the Cisco 2911. Guaranteed global bandwidth ensures that ship owners and operators can improve business intelligence, enhance efficiency, performance and crew welfare, and in turn run their businesses more effectively.




Features:
Unlimited data service across Ka-band and FB on one price
Fully Managed service
Affordable voice calls
Multiple voice options for crew and operations
24/7 support
A variety of flexible data plans.

Benefits:
Continuous Connectivity: Ultimate reliability through a dual satellite constellation using Ka-band with unlimited L-band back-up, ensuring seamless global mobility
Guaranteed Performance: Committed data rates backed-up by service level agreements guarantee that the customer always gets what they pay for
Controlled Costs: More accurate cost management with a wide selection of flexible subscription packages and one invoice
Fully Managed Support: Standardized plug-and-play service with 24/7/365 management, monitoring and support globally, for simplicity and complete peace of mind
Business Applications: A unique opportunity for enhanced operations by deploying value added services developed by third party application providers.

Digital Solutions: